Managing Editor Lisa Ampleman: We've been talking as an editorial staff this year about the range of things writers do to pay the bills. Obviously, many teach in colleges or universities, training the next generation of writers (and many more want that kind of position!)—but others opt for alternative careers. They employ their communication, content creation, and project management skills; their knowledge of design; their attention to detail; their interest in helping others; etc., in venues outside the academy. We'd like to highlight some of them in a new blog series on writers' day jobs.
Our first feature is on Steven D. Schroeder: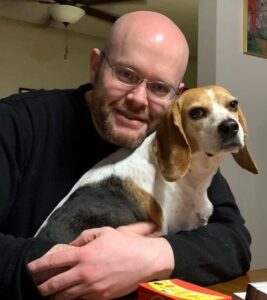 Steven D. Schroeder
How would you describe what you do for your day job?
My job title is Creative Content Manager. I provide creative strategy, project management, account relations, and content writing for a small marketing firm serving financial clients (investment, insurance, and banking). I write everything from website copy to social media posts, informational articles to print brochures. 
I don't have an MFA and was never going to succeed as a teacher or in academia, so this is a good professional outcome for me. Before this job, I contracted as a resume-writing team leader for nearly a decade, and before that I worked for a year after graduation as assistant manager of a video store, back when those were a thing.
What do you enjoy about that job, and what are some of its detractions?
The best aspects of the job are that it lets me exercise my writing muscles in ways that are different from poetry but still engaging, and it offers a good work-life balance so I have the time and energy for that poetry writing. (Work-life balance can vary a lot in marketing jobs, so do your research.) It's not an overly exciting or entertaining job,