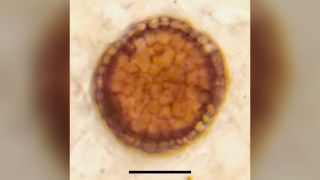 Bicellum brasieri holotype specimen. (Image credit: Paul Strother)
Scientists have discovered a rare evolutionary "missing link" dating to the earliest chapter of life on Earth. It's a microscopic, ball-shaped fossil that bridges the gap between the very first living creatures — single-celled organisms — and more complex multicellular life.
The spherical fossil contains two different types of cells: round, tightly-packed cells with very thin cell walls at the center of the ball, and a surrounding outer layer of sausage-shaped cells with thicker walls. Estimated to be 1 billion years old, this is the oldest known fossil of a multicellular organism, researchers reported in a new study. 
Life on Earth is widely accepted as having evolved from single-celled forms that emerged in the primordial oceans. However, this fossil was found in sediments from the bottom of what was once a lake in the northwest Scottish Highlands. The discovery offers a new perspective on the evolutionary pathways that shaped multicellular life, the scientists said in the study. 
Related: In images: The oldest fossils on Earth
"The origins of complex multicellularity and the origin of animals are considered two of the most important events in the history of life on Earth," said lead study author Charles Wellman, a professor in the Department of Animal and Plant Sciences at the University of Sheffield in the United Kingdom.
"Our discovery sheds new light on both of these," Sheffield said in a statement.
Today, little evidence remains of Earth's earliest organisms. Microscopic fossils estimated to be 3.5 billion years old are credited with being the oldest fossils of life on Earth, though some experts have questioned whether chemical clues in the so-called fossils were truly biological in origin. 
Other types of fossils associated with ancient microbes are even older: Sediment ripples in Greenland date to 3.7 billion years ago, and hematite tubes in Canada date between 3.77 billion and 4.29 billion years ago. Fossils of the oldest known algae, ancestor to all of Earth's plants, are about 1 billion years old, and the oldest sign of animal life — chemical traces linked to ancient sponges — are at least 635 million and possible as much as 660 million years old, Live Science previously reported.
The tiny fossilized cell clumps, which the scientists named Bicellum brasieri, were exceptionally well-preserved in 3D, locked in nodules of phosphate minerals that were "like little black lenses in rock strata, about one centimeter [0.4 inches] in thickness," said lead study author Paul Strother, a research professor in the Department of Earth and Environmental Sciences at Boston College's Weston Observatory. 
"We take those and slice them with a diamond saw and make thin sections out of them," grinding the slices thin enough for light to shine through — so that the 3D fossils could then be studied under a microscope, Strother told Live Science.
Surface view of a B. brasieri specimen, showing the tiled pattern of sets of elongated cells. (Image credit: Paul Strother)
The researchers found not just one B. brasieri cell clump embedded in phosphate, but multiple examples of spherical clumps that showed the same dual cell structure and organization at different stages of development. This enabled the scientists to confirm that their find was once a living organism,